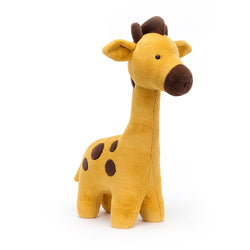 Big Spottie Giraffe by Jellycat
Big Spottie Giraffe is a cheery-bright chum in gorgeous custard-chocolate fur! This cuddly calf may have diddy legs but look at that funky long neck! With a punky mane, scrumptious freckles, soft wee horns and a cocoa muzzle, not to mention those tickly leafy ears, our jolly giraffe brings so much joy.
Dimensions: H19" x W6"