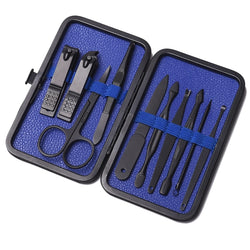 Color Pop Grooming Kit in Blue
Add some pizzazz to your travel kit with the Color Pop Grooming Kit. Keep it handy in your work or gym bag too. Look polished on the go with these hair, nail and face men's grooming tools. This 10 piece set is packaged into one sleek black case. Interior of case features bold color options to choose from. Makes a great executive gift or gift for dads, husbands, and any other men in your life.
Includes 10 black stainless steel grooming tools for men: Scissors, Toenail clippers, Fingernail clippers, Cuticle pusher, Nail file, Tweezers, Cuticle trimmer, Peeling knife, Ear pick.
Material: Stainless Steel Case Dimensions: 5" x 0.75" x 3"