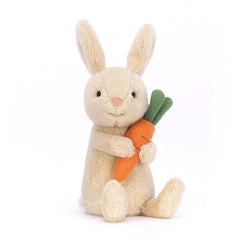 Bonnie Bunny with Carrot by Jellycat
So very proud of such a prize find, it's Bonnie Bunny with Carrot! This beigey bunny has been digging and snuffling, to find the finest veg in the patch! Our waggle-eared wonder is off to the fair with a suedey orange carrot, stitched with detail and topped with fine squidgy leaves!
Dimensions: H6" x W3"