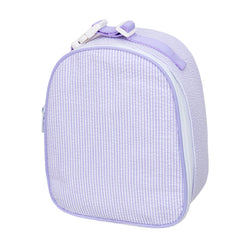 Oh Mint Gumdrop Bag- Lilac Seersucker
The perfect lunchbox or baby bag! Ideal for holding your child's lunch or bottles and baby food.
Lined inside with waterproof material. Features a net to hold utensils or cool pack. Front pocket zips almost all the way open for easy access. The top strap has a ladderlock buckle to make it easy to clip on to backpacks and strollers.
Measurements:10"x4"x8"
Perfect for a monogram!
***If you need to place a bulk order on any Oh Mint items, please reach out to our customer service team and we would be happy to help. Email us at customerservice@lilaandhayes.com or by phone at 817.985.3330.e