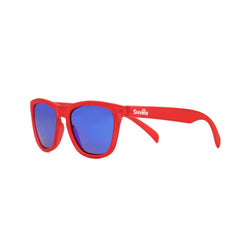 Sunnies Shades Kids Sunglasses - Red White BOOM!
Red, White & BOOM! polarized kid's sunglasses are the perfect accessory to any backyard barbecue or July 4th party!  

Polarized lenses: Reducing glare and making images appear sharper and clearer for your kiddos
100% UVA and UVB protection
Durable frames: made to fit all kids' lifestyles and activity levels
Anti-slip material made with a special coating on the frame to help prevent slippage while your kids play with ease!
Includes a microfiber-carrying pouch for easy care and storage