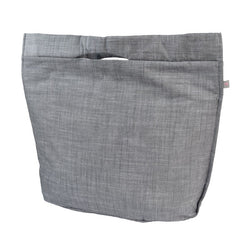 Oh Mint Mini Lizzi Tote- Grey Chambray
This is the Mini-Me to the big sister, the Lizzi Tote! Perfect for school & office lunch, snack, pumping supplies, picnics, nurses & teachers! Lined with lunchy insulation; velcro closure at top

Clean me! We recommend cleaning all of our lunch lined items by wiping clean with a damp cloth or Clorox Clean Up spritz. Do not put in washing machine and keep out of the dryer. Lay flat to dry. 
Measurements: 12.5"x 11"
Perfect for a monogram!